If you have tried purchasing Bluebear FoodPass using the mobile apps, but the apps still appear to be locked, then it is possible your payment did not complete successfully.
These transactions are processed by Apple and Google Play's payment systems and not by Bluebear's.
First, check to see if you received a receipt from the Apple App Store (iOS apps) or Google Play (Android apps). Please remember to check the email address that is registered for your Apple App Store or Google Play account, It may be different from the email address you have registered for your FoodPass profile. Be sure to check your junk mail folders.
If you did not receive a receipt from Apple or Google Play the payment did not go through. Try purchasing it again on the app. If you see the charge on your bank statement but have not received a receipt, reach out to Apple or Google Play support.
If you did receive a receipt, but the apps are not unlocked, then please contact us at help@bluebear.ie and attach the receipt you received from Apple or Google Play. Our team needs to review the information in the receipt in order to assist you further. Steps on how to retrieve your receipt are linked below:
Another thing to try
Sometimes a purchase will fail to synchronize with our server despite having completed successfully. If this happens, you can use the "Legacy Restore" option to re-sync your purchase.
This can be accessed by clicking FoodPass on the title screen of the FoodPass app in which the purchase was originally made, then clicking Support, and then "Legacy Restore"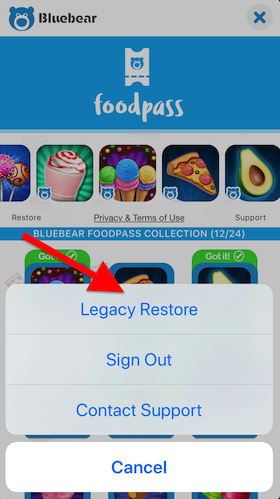 "Pending" Apple purchases
If FoodPass was purchased through an iOS app and the apps are still locked, please check the status of your transaction and see if it is "Pending". This means that the apps have not been delivered to your account yet, since Apple's payment system is still processing the transaction.
If it is "Pending", it may take between 24 - 48 hours for FoodPass to be delivered to your account. If you no longer see "Pending" status for the Apple purchase, but the apps are still not unlocked, then please forward us a screenshot/email of your App Store receipt at help@bluebear.ie. This will help us get FoodPass up-and-running for you.