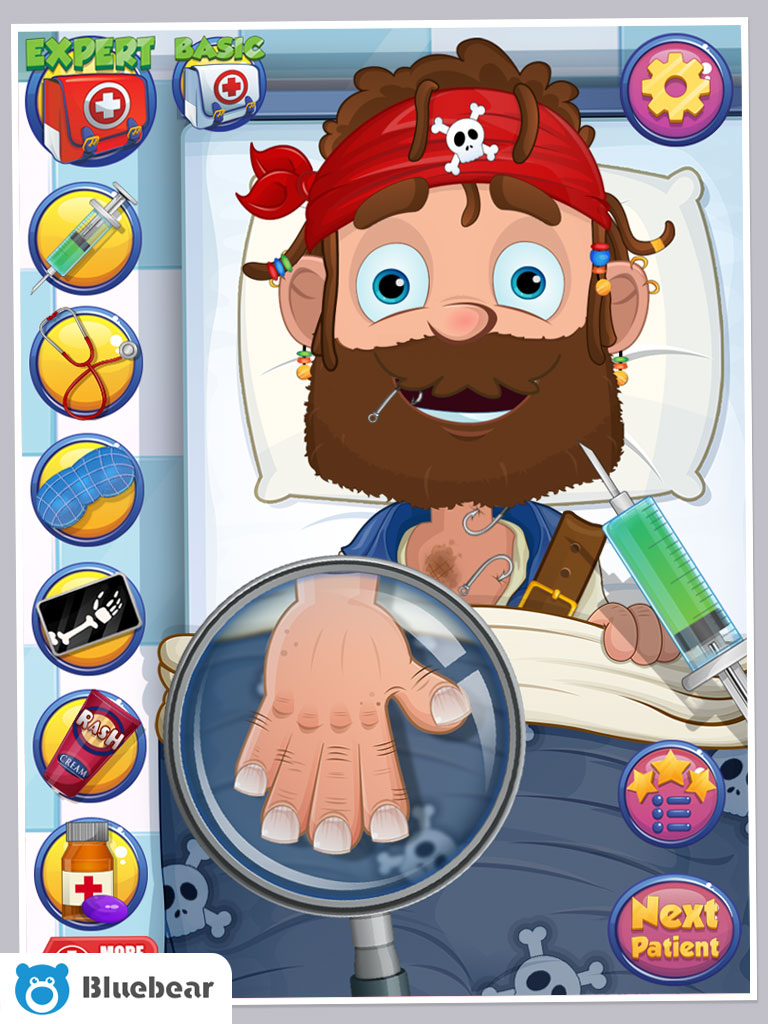 Crazy Hospital!
Become a doctor today! Diagnose and treat your patients injuries & ailments, no matter how crazy they are!
Each of your patients have specific injuries or illnesses. They need your help straightaway. Its up to you to locate any boo boo's and help them get better. Use the stethoscope, syringe, x-ray machine and many other crazy medical tools to diagnose whats wrong with each silly character.
Once you've treated all the different injuries for one patient, make sure you perform all the standard check-ups before moving on the your next patient!
What are you waiting for, start treating your disgruntled patients today!
Features:
Diagnose your patients using caricature type medical equipment.
Each patient has a unique ailment that needs to be treated before progressing.
– Each of the check-up tools monitors or treats a specific injury or illness.
– Funny character animations, including reactions and voiceovers to user input.
– Medical chart checklist to review diagnosis and task completion.
– 6 different patient characters with unique themes.
– 12 medical tools in check-up section plus 6 tools, each unique to their corresponding charater.
– Different custom plaster and bandages to apply to your patients.
If you like "Crazy Hospital!", please take a moment to leave a review. We will continue to make improvements based of your feedback.
If you would like to see any new characters in future updates for "Crazy Hospital" please suggest them in your review.
About Bluebear:

With over 60 million downloads, Bluebear is one of the top developers on the App Store. We pride ourselves on being a creator of innovative premium games that kids and parents love. Our goal is to make games that help stimulate the imagination and creative learning process.
Visit www.bluebear.ie for more information
Join our Facebook Page: http://www.facebook.com/BluebearApps

Follow us on Twitter: @BluebearApps

– We Value Your Feedback

Please rate and review our app. We listen and read all the feedback received so we can keep improving our games. Please note that we aren't able to respond to reviews in the app store, but we can respond to your feedback via email: support@bluebear.ie
– Something wrong. Need Help?

Contact us with any questions at support@bluebear.ie

– Sound not working?

If the sound is not working, be sure the mute switch is turned off, activate the application, then turn up the volume and the sound will work (the mute switch and volume button are located on the side of your device).
– Privacy Policy / For Parents
Please see http://www.bluebear.ie/privacy.html
Download